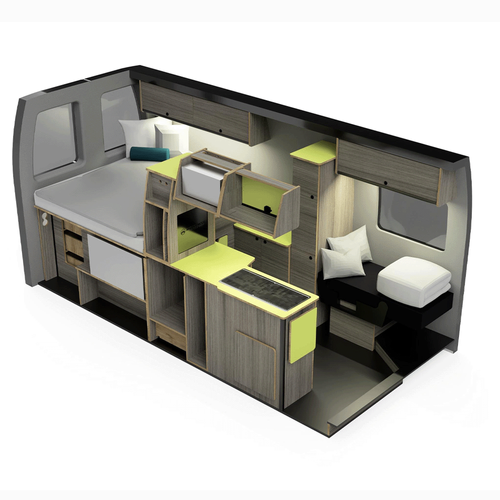 Euro
FLOORPLAN: The Euro floor plan is our version of a layout commonly found in Europe. The Euro provides as many amenities as possible. Seating and sleeping for 3-4 (depending on seat/bed), large kitchen galley, pull out pantry, upper storage, display cabinet, cassette toilet, large rear elevated bed with huge storage possibilities. This floor plan can also be modified to suit individual needs.

The Europeans have been building camper vans for such a long time, and many of their products and features are the best around. We have taken notes out of their playbook and have brought some of their features to life in the Euro floor plan. This includes a huge passenger side galley with multiple countertop extensions, fridge, fresh and grey water bottles, 12 volt pump and euro flush glass top sink/stove combo. Best of all is the ability to bring the whole family along with the beautiful two person rear seat and 3 point safety belts. When the day turns to night and with the help of dual front swivel chairs this euro set up transforms into another sleeping area for one adult or two kids.

This model has had some added features by the Wilderness Vans team. For amenities we added a euro domestic sized cassette toilet, and huge slide out pantry. Fold down stairs lead to a large raised bed. Below this elevated bed are large pull out drawers and storage for easy access to equipment and gear.
OVERVIEW: Seats 3
Sleeps 3 (1 child/youth)
Raised bed with enclosed garage
1-2 Seat Bi-fold Seat/Bed
Kitchen galley
Pull out pantry
Upper cabinets
Toilet cabinet
Raised fixed bed
Storage garage
Rear slide out storage

Weight: 1000 kg (2200 lb) approx
COMPATABILITY: Ford Transit 148 High Roof Extended
Ram Pro-master 159 High Roof Extended
Mercedes Sprinter 170 High Roof
Build Your Dream Van
Fill out the form by clicking the button below to start the build process: